Evening classes for learning English in Malta (St Paul's Bay)
Course outline
Are you busy at work? Do you need to improve your English or learn English grammar? Improve your conversation and speaking skills with lessons by a qualified English language teacher in an ESL / EFL school in St Paul's Bay, Malta.
Sessions are held on Tuesdays and Thursdays from 18:00 to 20:00 (2 hours.)
Afternoon sessions from 13:00 to 15:00 may also be available subject to demand so just ask us.
Course levels are Elementary (A2) and Pre-Intermediate / Intermediate (A2+/B1). You can take our online English level assessment test so we can assign you to the correct level class or visit the school during office hours to complete the test on paper.
This course is suitable for adults of all ages (minimum age 16) in the classes. Teachers will adjust the lessons and study to suit the type of students in the class.
All teachers / tutors are licensed and qualified English language tuition teachers and these private group lessons take place at the evening / night school in St Paul's Bay. Ideal for people living in the Bugibba, Qawra, St Pauls and the surrounding area.
This evening course provides useful background towards the Trinity College "Spoken English for Work (SEW)" examination and prepares students for real-life working situations by providing the opportunity to discuss real work issues in an English-speaking context though telephone conversations and formal and informal presentations. Lessons are split broadly between conversation (Tuesdays) and grammar (Thursdays) to allow students to attend those lessons that suit their personal needs.
Evening classes must be booked in blocks of 8 x 2 hour sessions to be completed within a 3 month period. We do understand that due to work and other commitments students cannot always come to every lesson so when registering you will be issued with an attendance card entitling you to 8 classes (x 2 hours). When these are completed you will be required to pay for the next 8 lessons. The school office is open Monday to Friday (08:30 to 17:00).
Students wishing to pay per session will be charged €15.00 per evening class (2 hours).
Evening class attendance sample card: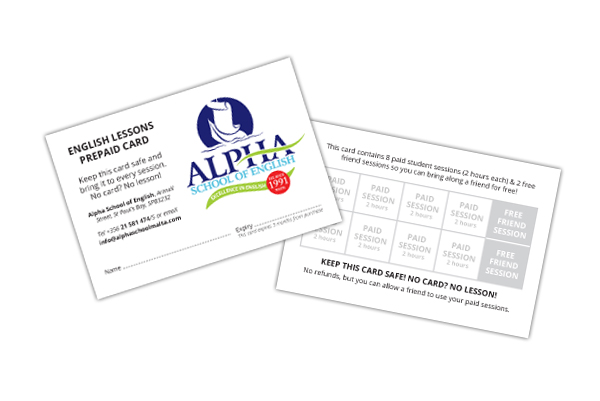 Very useful course
"

Thank you. Very useful, helpful and enriched me emotionally.

"


Valentina Gwayerskaya (Russia), General English / Evening classes
Book your course online!
Please contact us for details about booking this item.
Search all English courses
Brochures and prices View
Price excludes our €50 registration fee PER BOOKING & €30 course resources fee PER STUDENT. These extra fees will be added to your final invoice.
Price reductions
Booked with us before? Tell us and we'll give you an extra 10% discount! (does not apply to evening classes)
Staying for 4-7 weeks? We'll give you a 10% discount on your junior course!
Staying for 8+ weeks? We'll give you a 20% discount on your junior course!
More than one child in our Playschool? We'll give you a 25% discount on the 2nd/3rd child!
Booking as a family? 15% off all courses per family!
All discounts will be applied on your final invoice.
All courses include...
Student welcome information pack including maps and important information for your stay in Malta
Student ID card and Taxes
Placement test & weekly progress tests
Final certificate
Free WiFi access on school premises
Mobile Sim card (on request)
24/7 emergency helpline in Malta
Ability to purchase exciting additional lessons / excursions & sports!
School licences & accreditations